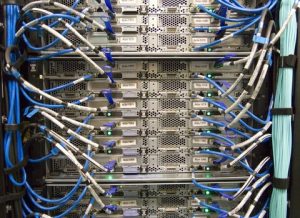 Many local businesses have trouble finding an experienced network cable installer. And most IT consulting firms don't want to install CAT 5 cable or CAT 6 cable. Sometimes they resort to hiring someone who doesn't know how to properly install office cabling, terminate network wiring, or manage ethernet cable in server rooms.
Our team is experienced in network cabling installation and loves a to see a highly organized network closet!
If an office move is in your future, Trust IT can also help ensure a smooth relocation process by confirming you have the network drops you need with our network cabling service.
Our ethernet cable installation services will be organized and provide stable communications for your network.
We provide network cabling solutions for businesses that want their IT network organized and easily maintained. Our cabling service includes:
Testing and replacement of faulty network cables or Ethernet connectors
Re-wiring of network and server racks
Troubleshooting of network and VoIP phone cabling
Clean up of network cabling
Installation of structured cabling
If you're looking for network cabling contractors, need your network closet changed from a rats nest to highly organized or have some other network cabling project, give us a call at 225-250-1292